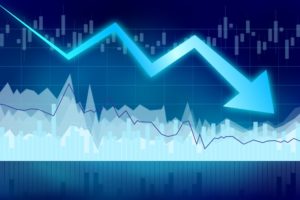 General Electric's CEO called 2018 its "reset year," but I doubt CEO John Flannery meant the whiplash turn that GE is speeding towards at the moment. Once a member of the founding elite of the Dow Jones, GE is in the middle of one of its roughest years in a decade. Since about this time last year, the stock has dropped 35%, to a market cap hovering around $100 billion. This week alone, GE stock experienced a one-day 4% drop towards a low it hasn't seen since 2009. Just in the last few months. we saw GE kicked off the Dow Jones (in August), and simultaneously hit with headaches in its Power division due to a technical glitch on its turbines. Several US turbines were shut down and now the problem has cropped up at the French power utility EDF, forcing them to say they will keep it off for a month. This news triggered the volumes of selling that we are seeing now.
A $20B Divestiture Target
All this comes as CEO John Flannery, only one year into his tenure, is trying to follow through with a focused restructuring plan, featuring aviation, power and renewables. But will he have enough room to work before investors lose all faith? GE is an old lumbering giant. Flannery's vision of fiscal engineering to bring about a "simple, stronger" company may well be the right one. But the Devil is in the details and some analysts are wondering if the plan to dig out of deep debt by selling off significant divisions is going to cut off necessary cash flow, too. The $20-billion divestiture plan includes selling the Baker Hughes oilfield services unit, its health care unit, GE Capital energy project finance debt business, and the power conversion unit, which might fetch about half of the $3.2 billion GE bought it for.
Clearing Hurdles in the Aerospace Division
A lot will come down to whether GE can reduce its debt enough to avoid another dividend cut. Bank of America analyst Andrew Obin is one of the few out there who says they view the current situation as a "true reset" and that the "dividend cut is now behind us." Motley Fool writer Adam Levine-Weinberg chimed in to point out that a piece of good news has been overshadowed by the turbine troubles: GE's joint venture CFM in the Aerospace division produces engines for narrow body jets and has been finally working its way through supply chain delays. Orders have been growing and, as Leving-Weinberg points out, the Aerospace division "generates far more profit and has much greater growth prospects than GE Power."
Is it Just Me or is It Feeling a lot like 1999 Around Here?
GE is still one of the greatest US companies, with valuable assets and revenue, and over 100 years in the stock market. But this is not a small struggle: shares have plunged almost 50% since the end of 2016. During this same time, companies in the tech sector keep setting higher records and creating multi-billionaire founders backed by unwavering investor support despite surprisingly low revenues and profits – look at Tesla, Spotify, and even Amazon – in comparison to GE's historical revenues. Let's see if Flannery can succeed in making that which is old, new again.
See more here.
(Image: Shutterstock)